The Ultimate Guide to Crypto Link Building: Strategies, Tips, and Best Practices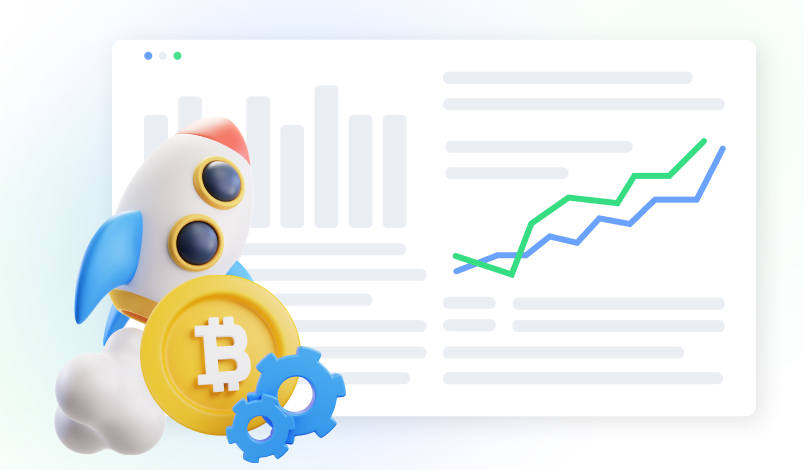 Introduction
Are you offering crypto services, running a crypto exchange, selling cryptocurrencies and tokens, or building an affiliate website in the crypto niche? If you hope to rank on the first page for your target queries, you need to show Google and other search engines that you're providing meaningful content and services.
Google assumes that reputable websites will receive backlinks from other trustworthy sites. The more backlinks a website accrues from well-established domains the better its chances of ranking well.
In this article, we will discuss proven crypto link building techniques,  how to plan your link building campaign, and what to avoid when building links in the crypto niche.
The Importance of Link Building for the niche of Cryptocurrency Websites
Crypto link building is all about acquiring links from reputable and relevant sources to bolster the authority of any website in the cryptocurrency niche. Links are important as every inbound link serves as a vote of confidence. Consequently, search engines check for backlinks to assess if a crypto project is well-trusted, credible, or well-known.
So, what's the importance of building links in the crypto industry? Here are the main reasons:
It can boost the volume of organic traffic for crypto companies as their rankings for target keywords improve on search engines;
Backlinks can help increase the credibility and trustworthiness of a project if it receives referrals from established projects or trusted companies;
Referrals from domains where your target audience spends their time can improve the reputation of a project and attract more investors;
link building techniques like guest posting, outreach blogging, and working with niche influencers can be an avenue for building relationships with other projects in the niche.
Big crypto websites are notably spending huge budgets for their own link building. That's because it's increasingly important to rank high on search engines as it can improve the buy-in for a project and create a wave of new users. Running crypto ads is also becoming expensive, competitive, and more restrictive.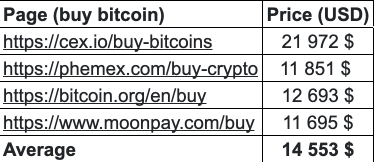 Screenshot caption: Comparative analysis of the funds invested to promote the "buy bitcoin" cluster (Excluding costs for content and work of specialists).
Best Link building Strategies for Crypto Websites
Guest Posting
Guest posting is an outreach link building strategy that involves writing and publishing an article on relevant websites that accept guest post submissions. It's not just an opportunity to earn a link. Guest posts can showcase your expertise, promote your services, or share newsworthy things you did.
Not all guest posting opportunities are equal. You need to ensure that the website you are guest posting on provides a do-follow link that passes SEO value to the page.
While guest blogging can generate high-quality backlinks for your crypto website, it takes time and effort to find authoritative websites, pitch ideas, create content, and edit the blog post to match the site's quality guidelines.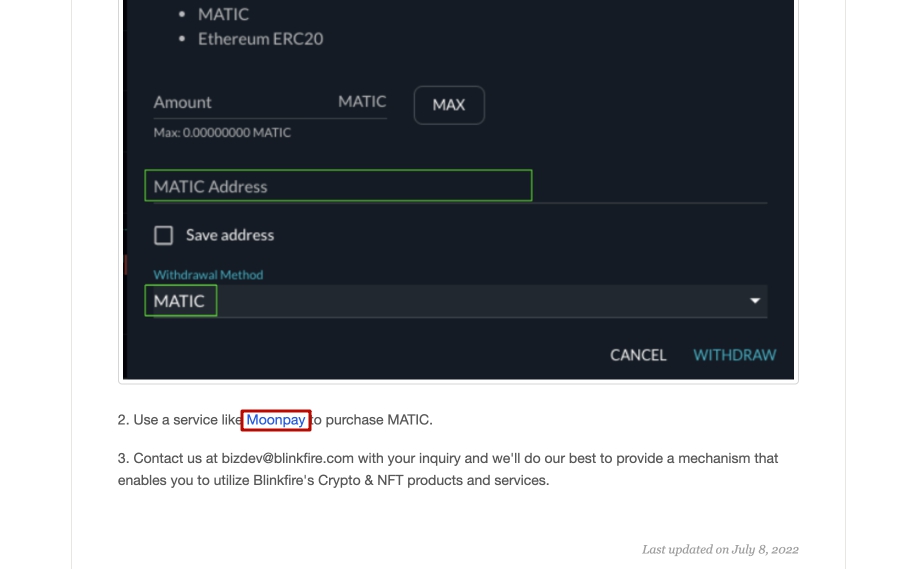 Screenshot caption: Outreach link of the Moonpay.
Link Insertions
Link insertions are a great way to build backlinks for your website. Unlike guest posting or article submission, the link insertion technique is more assured as you place links on published articles with existing authority. You can find relevant articles in your niche and insert your link naturally within the content.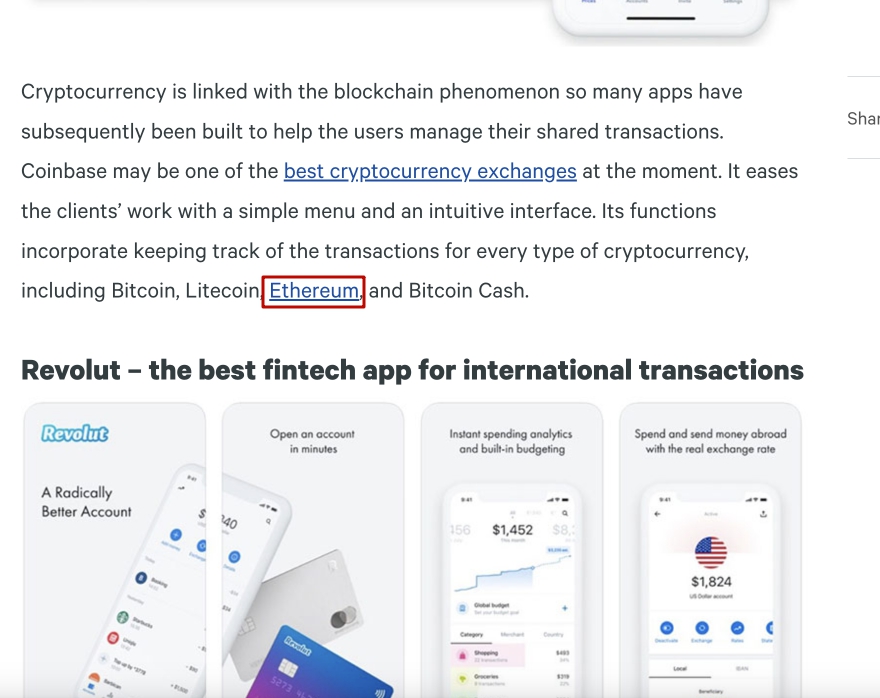 Screenshot caption: An example of an organically inserted link in an existing article.
Linkable Assets
People will naturally link to and share valuable pieces of content. The content can be anything from infographics, guides, tools, videos, podcasts, or even quizzes.
Creating linkable assets is a cost-effective way to generate more backlinks for your crypto website as it doesn't require outreach. You can better utilize the resources that would be spent on broken link building with this technique. Still, the linkable assets must be promoted adequately to spark a buzz.
Infographics
Infographics generate lots of links because they are visually engaging and easy to share. You can create an infographic to showcase the values of your project, how it works, unique features, or the problems you hope to solve creatively. After creating the infographic, you can follow some tips to increase its exposure and link value:
Make your infographic fully linkable to obtain an editorial link from the source that embeds your infographic;
Submit your infographic to directories such as Cool Infographics, Daily Infographic, and Visually. The sites collect and showcase infographics on various topics and provide a link back to your website;
Publish your infographic under creative commons licenses that require attribution, allowing other websites to use your infographic on their site, as long as they credit and link back to your website.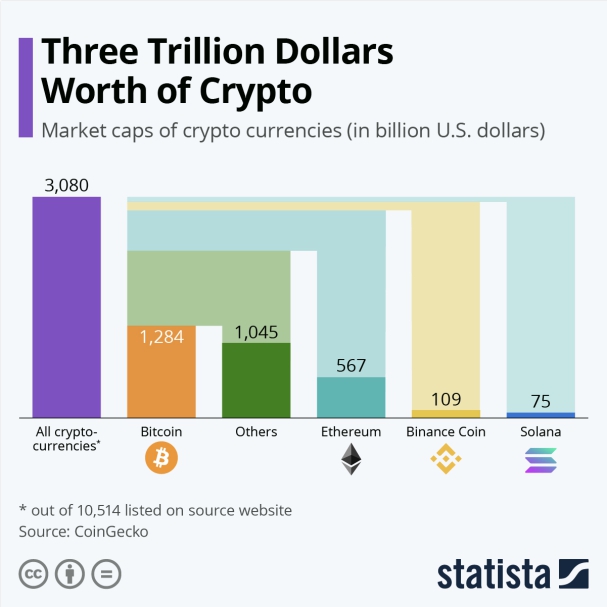 Screenshot caption: Example of infographics on Statista.
Unlinked Brand Mentions
One of the best ways to take advantage of low-hanging linking opportunities is to find unlinked brand mentions on other websites. These are occurrences where others have mentioned your brand name or services but have not linked to your own site.
The technique involves reaching out to the site administrators and politely asking them to add a link back to your site.
This method has a high chance of success if the site owners are sympathetic and appreciate your brand. It can be a win-win situation: you get a valuable backlink, and you can promise to consider future linking opportunities touching on what they do.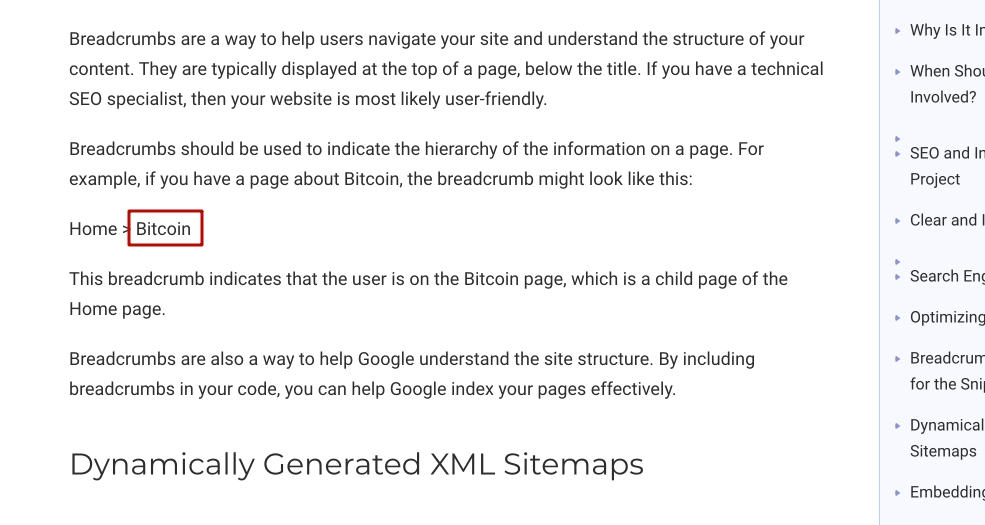 Screenshot caption: Mentioning the Bitcoin brand without an anchor link.
Forum Posting
Crowd marketing entails engaging with your target audience on relevant online platforms, such as crypto forums, blogs, social media, and Q&A sites such as Quora or Reddit. By providing valuable insights, answers, and recommendations, you establish your credibility as a potential source of information and expertise.
If the opportunity presents itself, you can include natural links to your website pages in your posts, which can drive more traffic. However, links on forums and Q&A sites are mostly labeled as UGC and may not receive the same treatment as editorial links.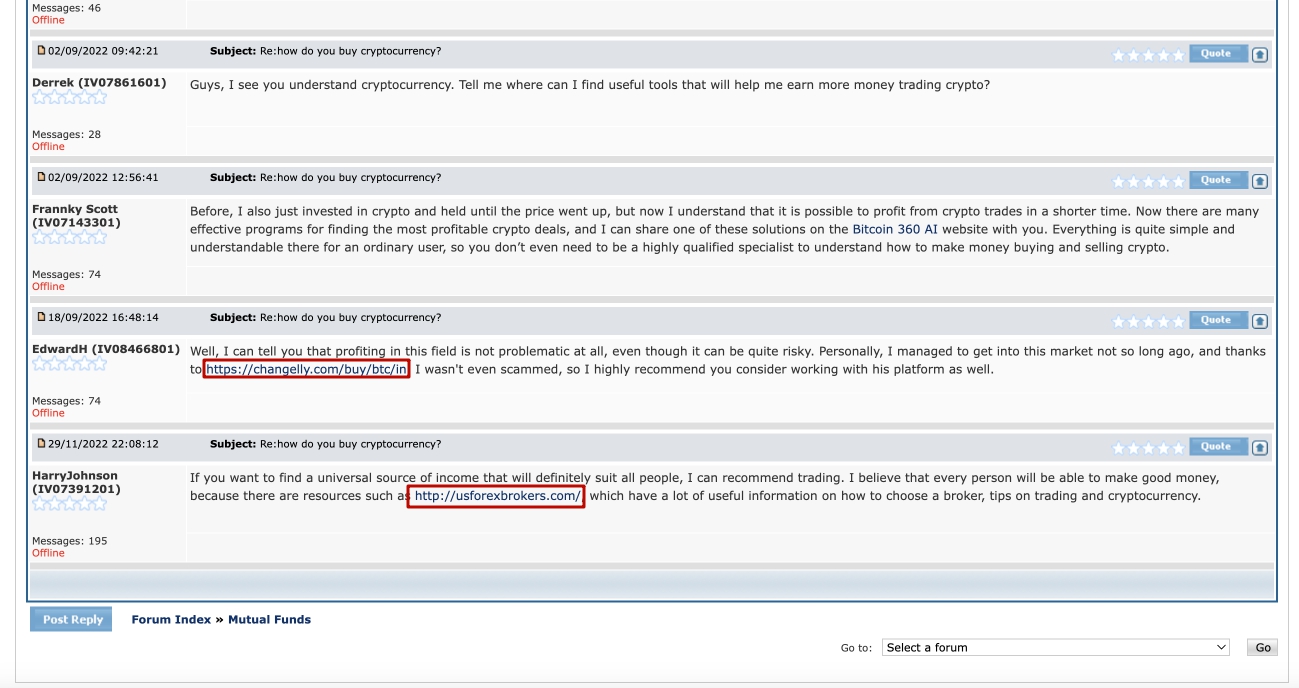 Screenshot caption: Forum posting in the forum website
Social Bookmark Sites
Social media bookmark sites are platforms where users save and share their favorite web pages & articles with other users. They are great for discovering new content and represent an extra way to boost the amount of referral traffic.
While you build backlinks from social media bookmark sites, the website must be of good quality and indexed by Google. Otherwise, you might waste your time and effort on low-quality links that won't help your ranking.
Niche Influencers
Niche influencers have a large and loyal following in the cryptocurrency space. They can increase your project's popularity and directly impact conversions.
The key is to choose influencers who share relevant content based on what you do. They should have a highly-targeted audience, match your brand values, and have a high engagement rate (many likes, comments, and shares).
How can you build links by working with influencers? Well, they can add links to your website in follow-up posts they publish on their personal websites. Links from text descriptions on YouTube are nofollow but they can generate referral traffic.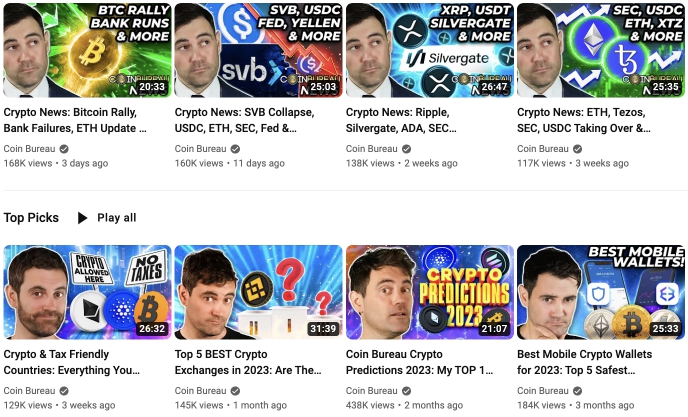 Crypto Affiliate Programs
Crypto affiliate sites can help build links for your website. One way is to have an affiliate program where people can advertise your site. Not only do you get crypto referral links, but you can increase conversions and sales.
Additionally, many crypto affiliate sites cover many issues related to the crypto space. You can reach linking agreements with the site owners and have your links included in their editorial content.
Link Exchange
An A-B-C exchange is where you exchange links with two other websites, but not directly. For example, your website links to site A, which links to website B which links back to you.
This way, the links appear natural and less spammy than a mutual link exchange involving two sites. Still, the method is not without its challenges. You need to find two other websites that are willing to participate in the exchange, and that have similar or higher link authority than yours. Otherwise, you might not get the full benefit of the link juice. Adding to the challenge, links must be relevant and valuable to your audience and placed in a prominent and contextual location on each website.
How to Build Links
How do you build links from crypto-related websites? Let's take a look at a simple 3 step process of building links that you can start implementing today:
Step One
Study your competitors
Before sourcing crypto backlinks, you need to analyze your competitors and see how they are doing. Here are some steps to follow:
Identify your main competitors: These are websites that rank well for the keywords you want to target;
Evaluate their performance: How much traffic do they get from organic search, the number of ranking keywords in top positions, domain rating, and popularity;
Compare their link profile: How many backlinks do they have? How fast are they growing their link mass? How old are their domains? What kind of content do they produce and how do they promote it?

Screenshot caption: An example of comparing the reference mass of competitors in the "crypto trading bot" cluster.
Research your niche
If you want to succeed in the crypto niche, you need to do your homework and research your competitors. You need to know how they increased their link mass, what kind of links they have, for how long, and what the dynamics are.
You need to know how much time they spent on SEO link building, their link growth, and so on. This will help you to identify their strengths and weaknesses and to find the best opportunities for your own strategy.
Researching the crypto niche is not only important but also exciting and rewarding as you'll learn a lot about the latest trends and innovations in this fast-growing industry.
Define your link strategy
You require a clear and detailed link strategy that defines the types of links, their number, and their sources.
The types of links depend on your goals and your niche. Some common types include outreach, editorial, niche edits, free-tool, and pillow links.
To determine how many links you need, try to analyze your competitors and your target keywords. You need to find out how many links they have, what types of links they have, and the authority of referring domains. You must aim for a similar or higher number and quality of links than your competitors to outrank them.
Determine your link budget
A link budget is the amount of money you allocate to acquire valuable external links for your website. It depends on the number of links required to achieve your search engine optimization goals and how much each link placement costs.
You can get quotes from different sources for link placements, such as directories, blogs, or media outlets. Alternatively, you can hire an agency that specializes in link building and pay them by the hour or by the package.
Step Two
Create a 3-6 month link building plan
You need a 3 to 6-month link building plan at least. Working with a plan allows you to achieve your goals more consistently. It guides you as you allocate resources. And you get a timeline after which you can evaluate your progress and make adjustments to your plan if necessary.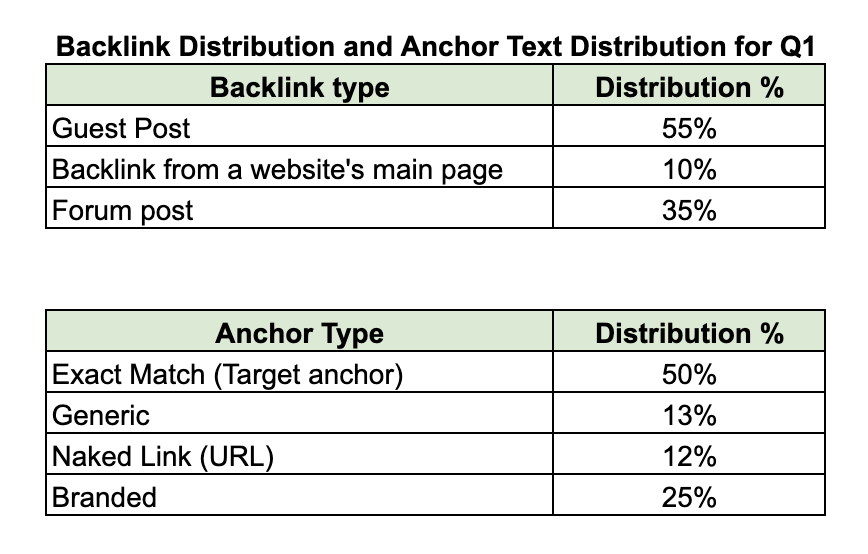 Screenshot caption: Link building parameters for one of the crypto projects for the first quarter of link promotion.
Create a monthly anchor plan
The anchor text is the visible part of the link that tells the reader and Google what the linked page is about. Relevant and descriptive anchor text can boost your rankings and traffic for your target keywords. However, you need to be careful not to over-optimize or spam your anchor text with exact matches, as this can trigger a sanction from Google.
A good anchor plan balances various types of anchor text, such as branded, generic, partial match, and exact match by varying them according to the authority and relevance of the linking site.
You can receive hints on the anchor strategy to adopt by conducting niche research and analyzing competitor link profiles.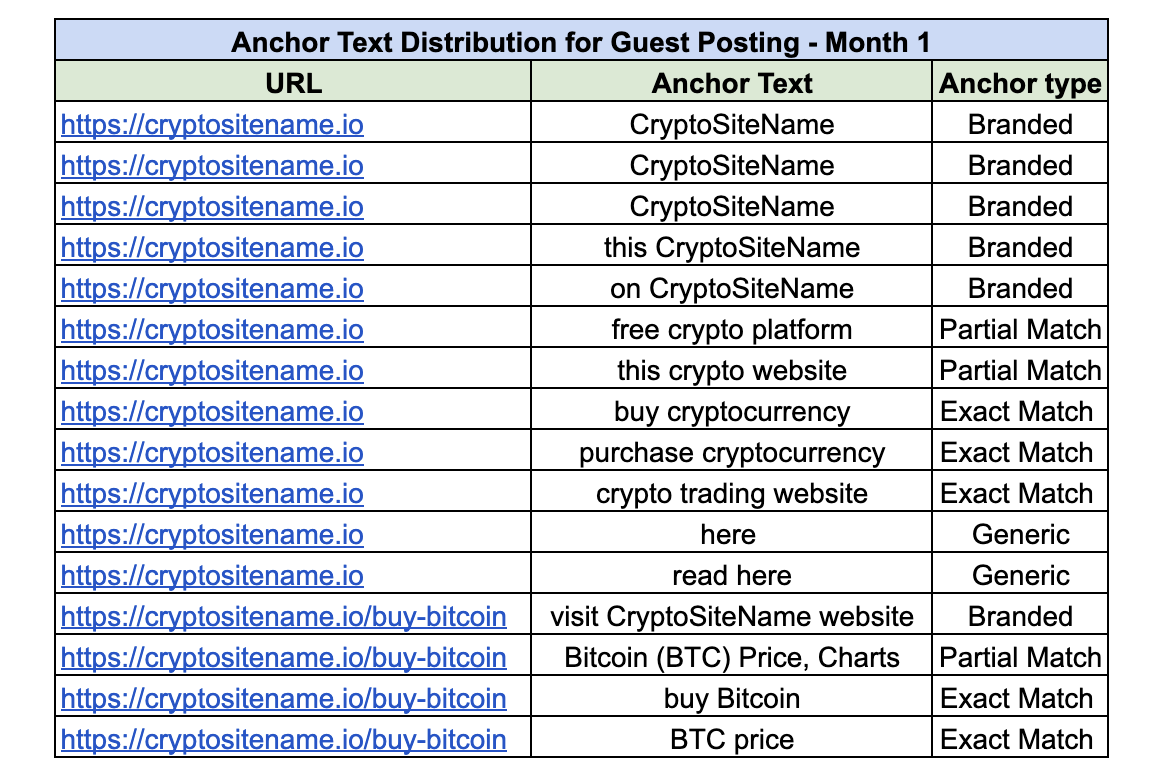 Screenshot caption: Example of the monthly anchor plan.
Create a content plan for your links
A content plan is essential for successful outreach and guest posts. It helps organize the creation, editing, and submission of your content according to the requirements and deadlines of the target sites. A good content plan should specify:
How you will create the content: tools, sources, research methods, etc;
When you will create the content: timelines, milestones, and deadlines;
Who is responsible for editing, reviewing, proofreading, and submitting the article to the target site;
What quality guidelines you will pay attention to ensure the content is relevant, engaging, informative and authoritative;
How you will measure the results: including metrics and indicators to evaluate the performance and impact such as the amount of referral traffic, engagement, conversions, and rankings.
Step Three
Monitor your backlink profile
The frequency of link mass analysis depends on the popularity of your crypto project. The more popular it is, the more often you need to check your link profile for spammy and broken links that can harm your site's rankings.
You should also monitor the status of the links you have already posted, as they may get removed over time and affect your rankings and budget. If you lose links from an authoritative resource, you should try to restore them as soon as possible.

Screenshot caption: Posted links statistics from linkchecker.pro
Carry out regular research
A successful link building campaign requires constant research and innovation. Even after establishing a solid link strategy, you should always look for new sources of links that can boost your rankings and traffic.
One way to do this is to monitor your competitors' link profiles and get notified when they acquire new links. Tools like Ahrefs and Majestic can help you with this task by sending you real-time alerts whenever a competitor gets a new backlink.
Another way to improve your crypto link building is to diversify your link types and sources. Don't limit yourself to the most common or easy links, but explore rare linking opportunities that can give you an edge over your competitors. For example, you can source links from podcasts, webinars, infographics, case studies, or industry associations.
Common Link Building Mistakes to Avoid for Crypto Marketers
Spammy Link Building
Avoid using spammy tactics that leave footprints behind such as buying links from low-quality sources that sell to just about anyone, or participating in link exchange schemes between two sites where such schemes are easy to detect. Such practices can get you penalized by search engines or increase your potential for manual action. This can devastate your website's ranking and erode all your SEO efforts.
Low-Quality/Generated Content on your Crypto Website
Normally, you need to cover as many topics and keywords as you can to have more spots on search results. But creating quality content and hiring the best writers can be expensive. That leads to the temptation of publishing low-quality/spun content or excessively relying on AI tools to generate complete articles without any human oversight.
It's problematic because it makes it difficult for other sites to link back to you. Google's search algorithms are super advanced with a human-like ability to distinguish content that's written by a human from first-hand experience and unoriginal content that doesn't contribute anything new to the conversation.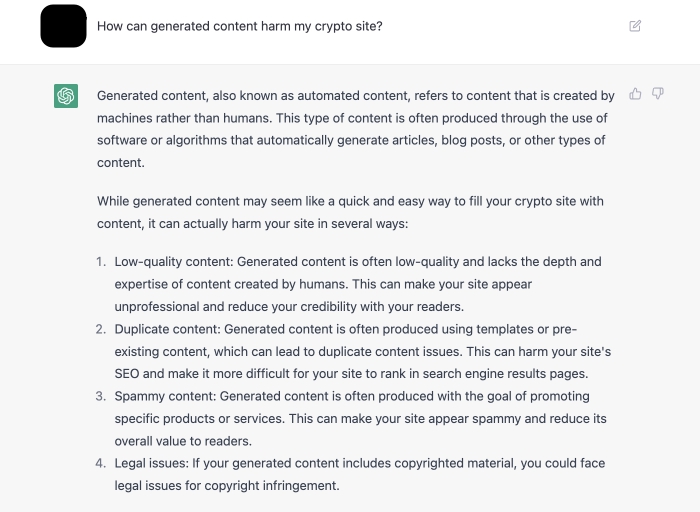 Screenshot caption: Example of the generated content by ChatGPT. Search Engine can identify such texts and lower your pages in the search results.
Ignoring Niche Relevance
Don't ignore the importance of building links from sites relevant to your niche. Why? Links from sites that have nothing to do with your industry won't provide much value and could even harm your ranking.
What's acceptable? News, finance, tech, crypto, and similar niches are ok, but if you will link a beauty site selling cosmetics to a crypto site, you will not profit from the link. That's because Google will ignore the link as it's not relevant and fail to pass any authority.
Some cases require a bit more introspection. For instance, if you're partnering with a CBD website that supports crypto payments, it can link to your crypto wallet service if the need to recommend wallets to users arises.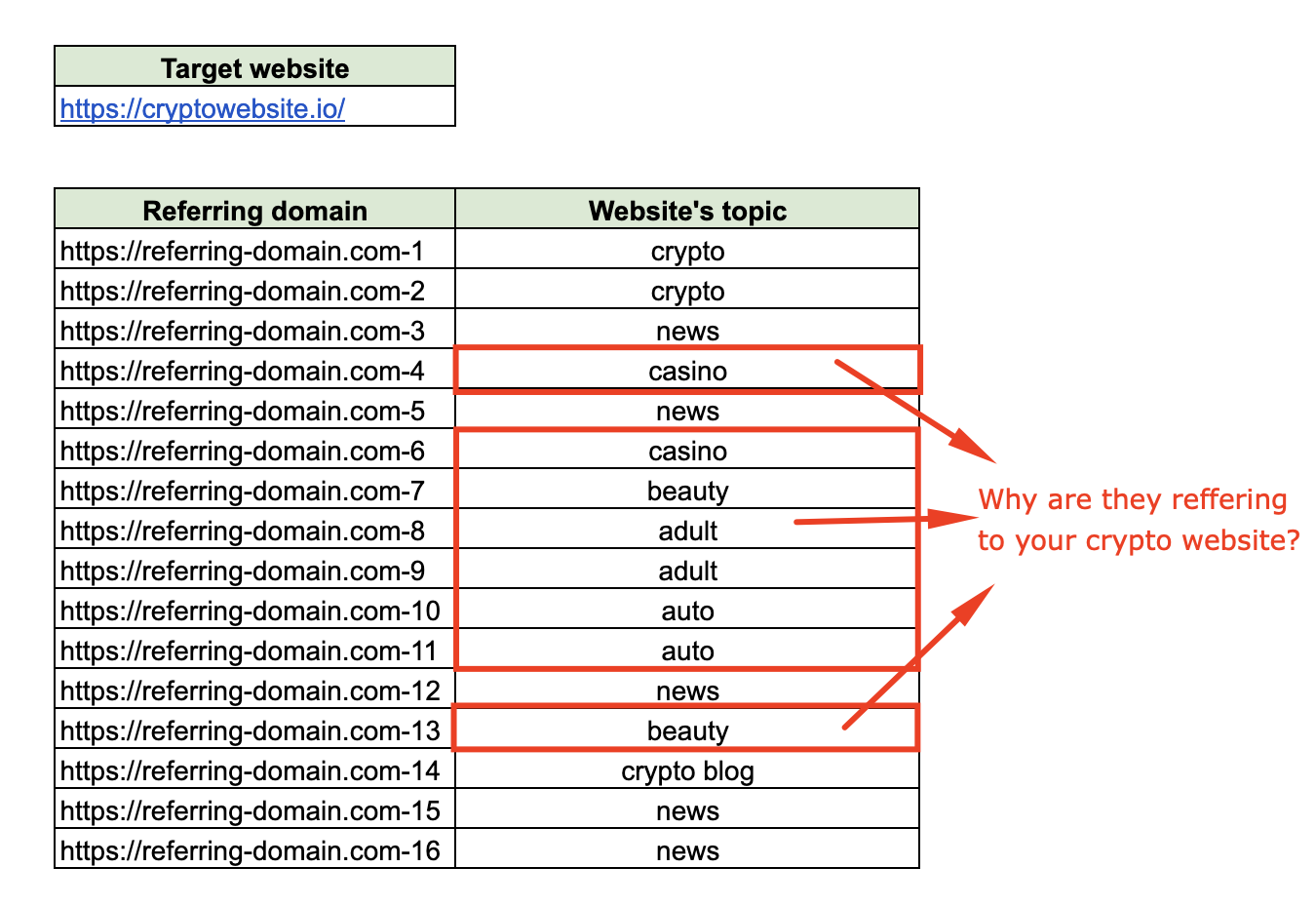 Screenshot caption: Our advice – keep track of the topics of the donors referring to you.
Overusing Anchor Text
Overusing exact match anchor text can raise red flags with search engines because the links don't appear natural, but rather a well-orchestrated link scheme where money may have changed hands. Instead, focus on using natural language, generic terms, brand names (your company name), and a variety of other anchor text types to make the anchor text look more organic.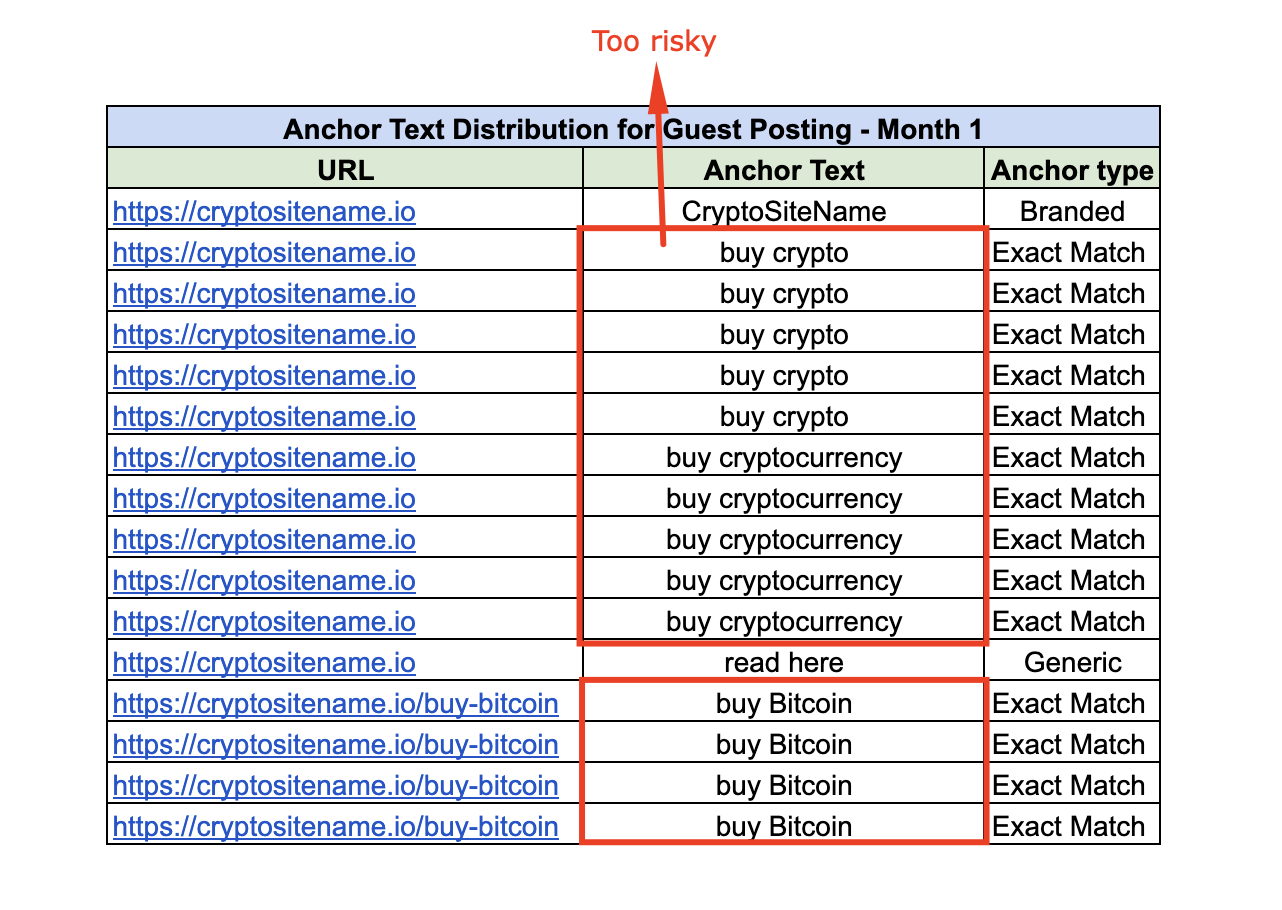 Screenshot caption: An example of a spammed anchor plan.
Ignoring Social Signals
Most social media links are no-follow, which means they do not pass link juice or authority to the linked pages. However, some social media platforms may have exceptions or variations in how they handle link attributes. Additionally, while links from social media are not a direct ranking factor, the links have value in terms of driving traffic and increasing brand awareness,
Increasing brand awareness on social media platforms can indirectly lead to more backlink opportunities. So, promote your content on social platforms and engage with your audience to increase your reach.
Neglecting Internal Linking
Internal linking is the most effective way to distribute link juice from your popular pages such as the homepage to other pages that don't receive as many backlinks. By doing this, you can show Google that the other internal pages are important and deserve a more prominent spot on search engine rankings.
Note that internal links should be inserted logically and with a view of helping the user in their buyer's journey. The anchor text and link placement will also determine how Google understands the content on the linked page.
Lack of Patience
Many websites take time to become known and trusted. Likewise, your link building strategy will be a long-term strategy lasting many years thus demanding patience and persistence.
As you may not see results overnight, avoid taking shortcuts such as increasing your link mass too quickly or seeking 'cheap' link placements on spammy and unrelated websites.
What Makes a Good Link When Crypto Link Building?
In crypto link building, a good link is one that provides value to your website as it passes the most link juice. It's also valuable to the ordinary user as your website serves as an additional source of information and reference.
Good links are also those obtained through ethical and organic means. So, as you evaluate potential link candidates, here are some vetting criteria you can use to gauge if a linking opportunity is worth chasing:
Relevance to your niche
Site Authority (domain authority (DA)/ domain rating (DR))
Diversity in your link profile
The naturalness of the link
Anchor text
Traffic generated by the link
The context in which it is mentioned
Let's look at each factor in-depth:
Relevance
What to check: Does the referring domain in any way discuss crypto projects, utilize cryptocurrencies, or draw an audience of crypto users?
Reason: A good link is relevant to your niche or industry. Links from sites closely related to your crypto business are more likely to be valuable to your audience and search engines.
Authority
What to check: Is the domain rating quality score provided by Aherfs or Moz at least 30+?
Reason: Links from high-authority sites are more valuable than links from low-authority sites. Reputable sources are those that provide accurate commentary, valuable information, and trusted services.

Screenshot caption: High authority donor.
Diversity
What to check: Are you building a diverse link profile with a variety of links from blogs, news sites, forums, and other sources to show that your website has a wide reach and prominence?
Reason: A diverse link profile is essential for a successful crypto link building campaign. Additionally, you should obtain links from various sources, including blogs, forums, social media, and directories.
Natural
What to check: Is the link included as part of the content of the page (not in footer bars or sidebars) to show that its primary intent is to provide more information to the user and enrich their experience?
Reason: A good link looks natural and is obtained through ethical means. Avoid overly spammy link building tactics such as buying spam links from link farms or participating in link exchange schemes involving two websites.
Anchor Text
What to check: Does the anchor text make it clear to the user the information they can expect to see if they click on the link?
Reason: A good link should have relevant and natural anchor text. Avoid overusing exact match anchor text. Instead, use multiple anchor text types to make your links look more organic.
Traffic
What to check: Is the link capable of driving highly-targeted traffic that can increase conversions on your site?
Reason: Links that generate referral traffic to your own website are more valuable than links that don't. Go for links from sites with high organic traffic, related audiences, and good engagement rates.

Screenshot caption: An article that links to one of the crypto web sites with traffic.
Context
What to check: Is there proper context around the link, meaning that the surrounding content gives Google a good indication of why the link was placed there?
Reason: A good link is placed in context and provides value to the user. Links that are placed within high-quality content are more likely to be valuable to your audience and search engines.
Conclusion
Building links for your crypto website requires you to be proactive about the strategies you use while avoiding common pitfalls. You must deploy sufficient resources and monitor the process to control the quality of links.
We know how challenging it can be to find and secure relevant and high-quality backlinks. That's why backlinkers.com specializes in link building for the crypto niche.
We have a wide network of relationships with niche websites in various languages, such as English, French, Spanish, and more. Our experts handle everything from outreach to placement to monitoring. Contact us today and let us strengthen your link profile.
FAQ
How do you measure the success of a link building campaign?
You need to track the number and quality of backlinks that your website receives. But this is not enough. Crypto linkbuilding should directly impact your bottom line. You must also assess if there is a positive improvement in your website's ranking, traffic, and conversions.
Do you provide crypto link building services?
Yes, and we have overseen projects involving some of the most renowned cryptocurrency brands like MoonPay, which provides end-to-end crypto solutions for millions of customers, and Changelly, an instant crypto exchange. Contact us today, and let's chart a course to increase your links safely and naturally.